HVAC Unit Cleaning
Back To Our Services
There is nothing more annoying than having a strange or foul smell coming from your HVAC unit or hearing strange noises coming from its motor. You've checked, but you still don't seem to be able to locate the problem. That's when you need to call our team for help. Our professionals are trained to not only find and fix the problem, but to thoroughly clean your HVAC unit and your air ducts, and to repair any damage the systems may have sustained.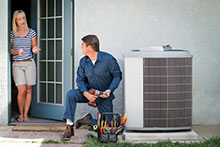 The Troubleshooting Protocol
When it comes to your HVAC unit, things can go wrong without warning. When they do, you'll either be faced with a nasty smell coming from your unit, strange noises, or a lack of proper cooling or heating. Either way, you will be made aware of the problem fairly quickly. But what exactly is the problem? Our trained professionals know what to check and how to check it. It could be a filter issue, a processor problem or a variety of other malfunctions, and it's important to know what to look for in order to be able to find it.
Prevention Is Always Better Than Cure
It's always better to prevent a problem with your HVAC unit than to subsequently locate and fix it after it already occurred. The best way to avoid problems is with a regular maintenance check, followed by a thorough cleaning of the unit. The purpose of maintenance is early detection of problems so that they can be prevented, and thorough cleaning that helps to make sure your indoor air is safe to breathe. Not only will this extend the life of the unit and its various components, you will also be able to avoid all sorts of expensive repairs in the future, and save some money on energy efficiency.
Dirty Filters Are Bad News
If you detected a smell coming from your HVAC unit you may need to have your filters replaced. The filters trap all manner of dirt and contaminants and prevent them from joining your indoor air circulation. However, these filters lose their effectiveness over time and need to be replaced. If they become clogged they won't do their job as well, or at all, which will also put some extra strain on the unit, and force it to work longer and harder.
Call Us Today
Contact Air Duct Cleaning Marina del Rey if you need to have your HVAC unit checked for defects or for a full cleaning and maintenance service. We're always ready to help property owners keep their indoor environment healthy and fresh.